Tel: +86 371-67991755
Fax: +86 371-67993277
Sales direct: +86 15838331071
E-mail:sales@battemachinery.com
http://www.meltpumpextrusion.com
24h services
cast film extrusion die
Cast Film Extrusion Die with Flexible Modular Modular Distributor Multi-layer co-extrusion die with a variety of different materials coupled with a special single-pass die.
Batte manufactures a variety of single or multi-layer coextrusion die, suitable for PP, PE, APET, PETG, PS, HIPS, ABS, PC, PMMA, PVC, EVA and other raw materials. Maximum length of the die up to 8 meters.
Batte Can produce a variety of high transparency sheets, hollow panels, sanitary ware, refrigerator panels, foam board, corrugated board, APCP, wood-plastic panels, waterproofing membrane and various types of Cast Film Extrusion Die.
Rich experience in manufacturing and continuous technological innovation, coupled with the most modern processing center, so that products have matured
The United States, won the full trust of customers.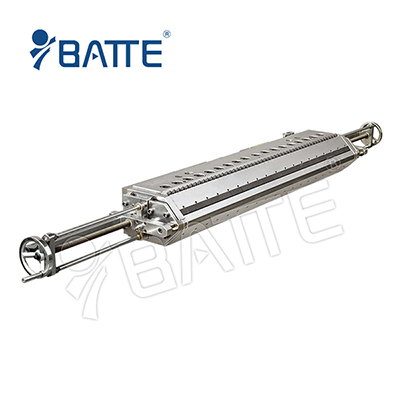 ● Cast film extrusion die head with a streamlined flow channel surface, two half-mold design, die disintegration, cleaning is simple and easy.
● Manually fine-tune elastic lip or removable upper lip design to suit different customer thickness requirements.
batte Main Products: Covers plate, sheet, film extrusion die and ancillary equipment, including plate / film / film extrusion die, multi-channel in-mold coextrusion die, hollow grid die, multi-layer coextrusion Dispenser, melt metering gear pump, quick screen changer (manual / automatic), static mixer, die width internal / external adjustment device, the mold width 300-6000MM following any custom. For PC, EVA, PVDC, PU, ​​PETG, PVS, PMMA, PET, ABS, PS, HIPS, PVC, PP, PE and other raw.