Tel: +86 371-67991755
Fax: +86 371-67993277
Sales direct: +86 15838331071
E-mail:sales@battemachinery.com
http://www.meltpumpextrusion.com
24h services
Rubber extrusion melt pump
The rubber melt pump is used in the elastomer and the degradable plastic extrusion system. This type of pump adopts special internal structure and has high efficient self cleaning function. It is suitable for extrusion of rubber elastomer. It is usually installed between extruder outlet and die head for pressurized pressure measurement.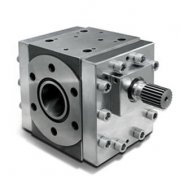 Characteristics of rubber extrusion melt pump
1) it can be applied to high pressure (40MPa) and high viscosity (40000Pa? S) working conditions.
2) highly polished, near mirror, suitable for thermosensitive materials.
3) the structure is precise and the temperature control precision is high.
4) optimize the flow path and lubrication system, with high efficiency self-cleaning function, no residue, no dead angle.