Tel: +86 371-67991755
Fax: +86 371-67993277
Sales direct: +86 15838331071
E-mail:sales@battemachinery.com
http://www.meltpumpextrusion.com
24h services
Gear Pumps For Extruder
Gear pumps for extruder are widely used in plastics, resins, rubber and chemical products extrusion. With the gear pump providing the pressure between the extruder and the die, extruder parameters can be configured to provide a homogeneous melt at increased throughout and tighter gauge tolerances.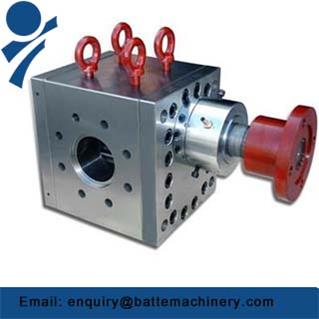 Gear Pumps For Extruder
Characteristics:
1. Design

gear melt pump

its application process there are three types of gear, spur, helical and herringbone gear. Spur gear manufacturing simple, low cost, and the strength to teach large, under conditions of high output pressure of having a larger effective volume output.
2. Helical gear self-cleaning ability, the material in the melt pump dwell time is short.
3.The pressure pulse apparent large size melt pump, the use of helical gear pump more suitable for discharge feeding speed of the melt pump in a small 200 --- 400 teeth / min range.
Gear Pumps For Extruder
Types:
Place of Origin: Henan, China (Mainland)
Model Number: ZB-B,ZB-C,ZB-D,ZB-E,ZB-F,ZB-G,ZB-H,ZB-K,ZB-R
Theory: Positive Displacement Gear Pump
Usage: Plastic, Rubber Pump and Fiber

As a melt
pump extrusion manufacturer
,Batte also supply thermoplast extrusion pump,high-viscosity melt pump and volumetric screw feeders for you.
Relative Articles:
◆Why must you choose melt pump extrusion for your producing?
◆New Design Of Melt Pump For Extrusion for Conjunction
◆Melt Pump Extrusion Rate, Products & Suppliers
◆Melt pump for extrusion