Tel: +86 371-67991755
Fax: +86 371-67993277
Sales direct: +86 15838331071
E-mail:sales@battemachinery.com
http://www.meltpumpextrusion.com
24h services
Gear Pump For Rubber Extruder
Gear pump for rubber extruder main function is to rubber hot melt pump extruder from pressurized flow steadily into the extrusion head after the regulator. Its stable melt pressure, flow capacity than the various types of extruders.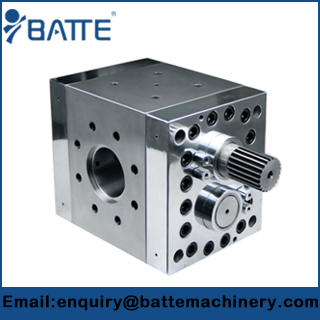 Gear Pump For Rubber Extruder Advantages:
1.Make the entire production line efficiency is significantly increased.
3.Reduce scrap, reduce energy consumption.
4.Achieve low-temperature extrusion, extend the life of the machine.
Gear Pump For Rubber Extruder Applications:
1.The gear pump rubber extruder is indispensable for the manufacture of precision films or micro granulate.
2.The gear pump extrusion has been widely used in chemical fiber, granulation, plastic film, sheet, plate, extrusions, pipes, wire and cable, drawing, composite extrusion production line.
3.Processable material almost covers most of polymer materials , such as: PE, PC, PP, PVC, HIPS, PS, PA, TPUR, fluoropolymers, polysulfones, polyesters, thermoplastic elastomers, rubbers, and thermal adhesives and the like.

Relative Articles:
◆Pressurized Melt Pump Extrusion
◆High Pressure Melt Pump For Extrusion Line
◆Melt Pump And Gear pumps for Extrusion
◆Gear Pump For Reaction Kettle