Tel: +86 371-67991755
Fax: +86 371-67993277
Sales direct: +86 15838331071
E-mail:sales@battemachinery.com
http://www.meltpumpextrusion.com
24h services
cast film die design
Batte cast film die design Die effective width of up to 8000mm, manually adjust the flexible lip, single-channel, multi-channel coextrusion compound cast film die, the characteristics of the corresponding extruder can be designed for the following applications PP.PE.EVA casting Membrane, CPP.CPE.PVDC, EAA barrier film with EVH and PA, commonly used in food packaging, a variety of specifications, types of stationery film, sanitary products film, adhesive film, plastic wrap, etc.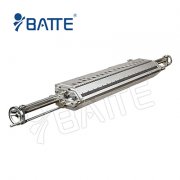 1. The die has a streamlined runner surface, two half-mold design, die disintegration, cleaning is simple and easy.
2. Manual trimming of elastic lip or movable lip design to suit different thickness requirements of extruded sheet.
3. Vertical or inclined 45 ° baffle designed to accommodate uniform distribution of melt streams of different viscosities.
4. mold using high-quality mold steel or imported alloy steel, to extend the life of the mold.
5.The flow channel surface all hard chrome plating, the average thickness of 25μm ~ 50μm, and mirror polishing.
6. die fasteners using 12.9 high strength bolts.
7.heating element using high-quality, durable stainless steel heating rods, heating ring.
Item
Specification
Die steel
P20/5CrNiMo
Material

PE/HDPE/LDPE/PA/PS/LDPP/HDPP/ABS/EVA/PC/PMMA.

width from 800mm to 3000mm, thickness below 2mm

Width of the die
200mm-3000mm adjustable
Thickness of the product
0.015-0.45mm
Choked flow rope
45 °or 90°
Way of flow passage
clothes rack type
Driving power
6KW
Sections of the mould
4-20sections
Voltage
220V/50hz or according your need
Heating type
heating inside
Heater element
stainless steel heating rod
Mode of connection
closed cycled connection
Fastening piece
12.9 high strength
Precision of polishing
Polishing precision of the stream surface of the die lip 0.03-0.04(μm)other parts is 0.04-0.05(μm)
Galvanization
the stream surface of the die head are treated by chrome treatment. Thickness 0.03-0.04(μm),hardness: 60-65Rockwellc,the chrome treatment thickness of the ektexine is 0.01-0.02mm.
Installation
parallel extrusion installation
Way of charging
central ring charging way