Tel: +86 371-67991755
Fax: +86 371-67993277
Sales direct: +86 15838331071
E-mail:sales@battemachinery.com
http://www.meltpumpextrusion.com
24h services
Hot Melt Glue Pump For Rubber Extruder
Hot Melt Glue Pump For Rubber Extruder conveying high viscosity, non-particulate impurities in the liquid. It has high output pressure, high viscosity of the transport medium, the use of high temperature, the input port can be vacuum, speed adjustment convenience, large flow characteristics. Pump material temperature wear-resistant, corrosion-resistant, with sufficient strength and dimensional stability.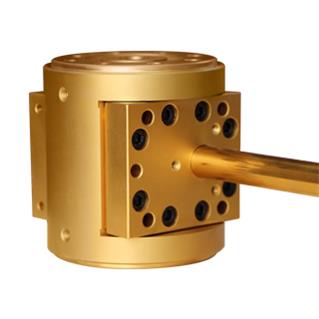 1. Used in the polymerization reaction process, used to transport high viscosity melt.
2. Used in melt spinning, as a booster pump.
3. Used in the extruder or injection molding machine, improve extrusion efficiency, reduce the load on the extruder.
4. Used to send resin, molten resin, so that the melt evenly, the pressure to the die.
Technical Parameters

Operating parameters

Melt Pump Body: High Temperature Tool Steel

Gear: High Temperature Tool Steel, Nitrided Steel

Sliding Bearing: High Temperature Tool Steel, special material and Abrasion

resistant coating

Shaft Sealing: Special sealing, Packing seal, the other combined sealing

Heating System: Conduction oil heating

Volume Range: 0.5CC - 2500CC

Viscosity: ≤40000 Pas

Working Temperature: ≤400°C

Cleaning Temperature: ≤450°C

Outlet Pressure: ≤40MPa
| | | | | |
| --- | --- | --- | --- | --- |
| Type | CC/Rev | Capacity (L/H) | Heating power (kw) | Dirven system (km) |
| | | | | |
| | | | | |
| | | | | |
| | | | | |
| | | | | |
| | | | | |
| | | | | |
| | | | | |
| | | | | |
| | | | | |
| | | | | |
| | | | | |
| | | | | |
| | | | | |
| | | | | |
| | | | | |
| | | | | |