Tel: +86 371-67991755
Fax: +86 371-67993277
Sales direct: +86 15838331071
E-mail:sales@battemachinery.com
http://www.meltpumpextrusion.com
24h services
Polymer melt pump extrusion(ZB-C)
Polymer melt pump extrusion is a type of extrusion gear pump for polymer,Which optimizes the extrusion process by allowing the screw to melt and homogenize the polymer with an accurate polymer delivery under varying polymer extruder output.The melt pump extrusion belongs displacement gear pump, using a combination of external tooth cylindrical gears relative rotation of transport to send a high viscosity fluids.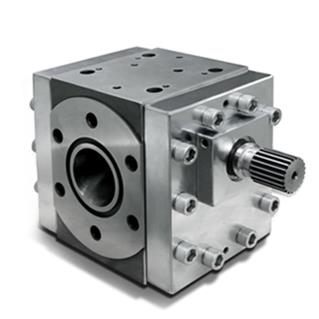 Polymer Melt Pump Extrusion Technical Parameter:
Technical Parameters
Operating parameters

Material For Melt Pump Body: High Temperature Tool Steel, ChromeNickel Steel or Titanium Tantalum Alloy


Material of Gear: High Temperature Tool Steel,Nitrided Steel,SpeciaMaterials or Abrasion-resistant Coating


Gear Tooth Type: Straight, Helical or Herringbone


Sliding Bearing: High Temperature Tool Steel, Wolfram Carbide, SpeciaMaterials or Abrasion-resistant Coating


Shaft Sealing: Spiral Sealing


Heating System: Electrical Heating

Theory: Positive Displacement Gear Pump

Structure: Gear Pump

Power: Electric or Oil

Fuel: No Need

Pressure: High Pressure

Volume Range: 0.5CC - 3200CC

Viscosity: ≤40000 Pas

Working Temperature: ≤400°C (750°F)

Cleaning Temperature: ≤450°C (850°F)

Outlet Pressure: 40MPa(6000psi)

Differential Pressure: ≤25Mpa
Pump Model

Pump Volume (CC)

Driven Power (kw)

Heating Power (kw)

Working Temperature

Working Pressure

Outlet Pressure: ≤ 40Mpa(6,000psi)

Outlet Differential Pressure: ≤ 275Mpa

Polymer Melt Pump Extrusion Characteristics:
1.The extrusion gear pump for polymer seal is generally spiral seals and packing, but also use other forms of mechanical seal according to customer requirements.
2.The polymer extrude drive motor + reducer + universal coupling + pump, motor adopts frequency control or servo speed control, you can freely adjusted to the desired flow rate. Look for products, high precision, servo motor speed is recommended.
3.The
melt pumps extrusion
heating or electric heating rods heat insulation jacket, the melt temperature can be precisely controlled.
extrusion gear pump for polymer applications:
Polymer melt pumps are widely used with polymer extruder in plastics, resins, rubber and chemical products extrusion. Such as: granulation, film, pipe, plate, sheet, synthetic fibers, fiber optics, medical plastic catheters and other industries.
Processable material covering almost the most polymeric materials, such as PE, PC, PP, PVC, HIPS, PS, PA, TPUR, fluoropolymers, polysulfones, polyesters, thermoplastic elastomer, rubber and adhesive fever.