Tel: +86 371-67991755
Fax: +86 371-67993277
Sales direct: +86 15838331071
E-mail:sales@battemachinery.com
http://www.meltpumpextrusion.com
24h services
The working principle of the extrusion gear pump
The extrusion gear pump device has two externally toothed gear wheels that mate with each other when they rotate. The extrusion gear pump working principle is that extrusion gear pump reduces pressure fluctuations caused by the extruder to a minimum.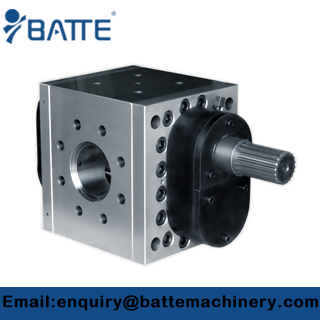 Extrusion Gear Pump Working Principle:
The forces on each of the extrusion gear shafts are taken up by two slide bearings. The flow-optimised inlet, outlet and smaller flow channels also lead to an increased flow velocity, reduced residence time and low shear stress. A small pressure in the
volumetric gear pumps
inlet is sufficient to fill the tooth chambers. On the discharge side, the mating of the gear teeth in each other forces the melt out of the tooth chambers.
The
gear pump extrusion
can therefore be used for the processing of thermo-sensitive, transparent and easily degradable polymers. Extrusion gear pump hot melt units are well suited for deployment in an automatic installation. Many functions are controllable from, or may correspond with the PLC of the main machine.

Relative Articles:
◆How Does Hydraulic Gear Pump Work
◆The Best Quality Hot Melt Extrusion Pump
◆The Extruder Used With Gear Pump
◆Melt Pump Driven System