Tel: +86 371-67991755
Fax: +86 371-67993277
Sales direct: +86 15838331071
E-mail:sales@battemachinery.com
http://www.meltpumpextrusion.com
24h services
Volumetric gear pumps
Volumetric gear pumps meter polymer through a set of intermeshing gears. These gear pumps extrusion are used in the extrusion process to maintain a consistent pressure and throughput. volumetric gear pumps as a component of the extrusion equipment can often increase output. volumetric gear pumps with repeatable polymer flow rate, while eliminating extruder surge, precisely metering polymer.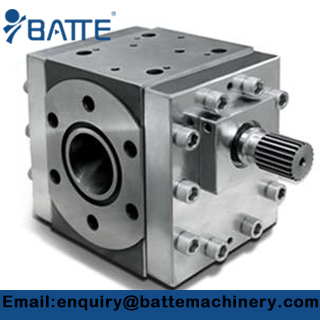 Volumetric Gear Pumps
Function:
1.Keep the flow and pressure of the plastic melt flow to the die at a continuous and constant level.
2.Increase the quality of the extruded material.
3.Reduce scrap, and control surge . Melt pumps are typically used in sheet, profile, and compounding applications.
With a volumetric gear pumps in your extruder, the output of the extruder can usually be increased. The results of older extruders are thus also highly improved.

Relative Articles:
◆Rubber extrusion lines
◆Gear Pump For Rubber Extruder
◆Pressurized Melt Pump Extrusion
◆Hot Melt Glue Pumps