Tel: +86 371-67991755
Fax: +86 371-67993277
Sales direct: +86 15838331071
E-mail:sales@battemachinery.com
http://www.meltpumpextrusion.com
24h services
Kinds of size and model for metering pump
Kinds of size and model for metering pump can eliminate extruder surge and screw beat at the die by installing an melt pump extrusion between your extruder and die. Which use for all row material compounding or polymer production process.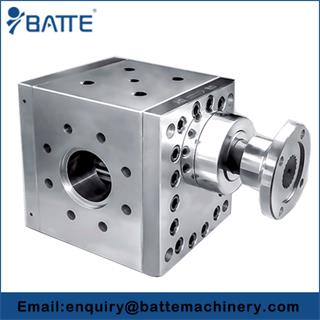 Kinds Of Size And Model For Metering Pump Features:
1. Manufactured from apecial,wear-resistance steel with excellent lubrication for a long service life.
2. Gear surfaces are specially treated for maximum wear resistance without stagnation.
3. Pumps extrusion line synchronization made easy
4. Outstanding practical experience providing solutions for various plasticprocessing and metering problems.
Kinds Of Size And Model For Metering Pump
Application:
Used in the Polymerization process, transfer high viscosity melt pump. Used in melt spinning, as Spinning pumps extrusion. Applied to the extrusion machine and injection molding machine, extrusion gear pump efficiency, decreasing the load. Applied to send resin, molten resin, make the melt even.

Relative Articles:
◆Gear pump preformer
◆Rubber extrusion lines
◆Here You Can Find The Best Pipeline Melt Pump Extrusion
◆Gear Pumps Extrusion Exporters India