Tel: +86 371-67991755
Fax: +86 371-67993277
Sales direct: +86 15838331071
E-mail:sales@battemachinery.com
http://www.meltpumpextrusion.com
24h services
Plastic Extruder Gear Pump
Plastic extruder gear pump relieving the extruder of pressure build-up.the quality of the end products,Which are used in order to optimize the extrusion process and to increase productivity.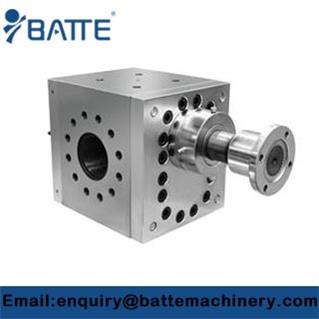 Plastic Extruder Gear Pump Function:
1.Stable the output pressure
2.Improve the quality of the product, improving the extrusion production,
3.decrease the energy consumption and extend the service life of the machine
Plastic Extruder Gear Pump System:

1.the melt pump extrusion used with standard P20 gear melt pump system.
2.Adopt control system digital instrument + frequency control mode, automatically control the pressure, temperature, flow, rotate speed, to meet the users needs.
3.The controlling system equipped with : pressure, temperature, flow control instruments, outlet and inlet pressure sensor and high performance inverter.

Relative Articles:
◆Hot Melt Pump Extrusion
◆Discharge Melt Pumps
◆Melt Pumps For Extrusion
◆High Pressure Melt Pump For Extrusion Line