Tel: +86 371-67991755
Fax: +86 371-67993277
Sales direct: +86 15838331071
E-mail:sales@battemachinery.com
http://www.meltpumpextrusion.com
24h services
Gear Pump For Reaction Kettle
Gear pump for reaction kettle also can be called discharge gear pumps for reactor or diachange melt pump for reactor,which can accurately controll molten material displacement by the pump speed.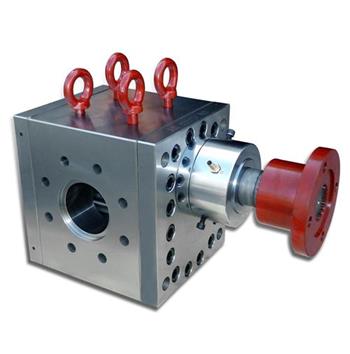 Discharge gear pumps for reactor Applications:
1.Gear pump for reaction kettle are widely used in plastics, resins, rubber and chemical products extrusion.
2.Processable material covering almost the most polymeric materials, such as PE, PC, PP, PVC, HIPS, PS, PA, TPUR, fluoropolymers, polysulfones, polyesters, thermoplastic elastomer, rubber and adhesive fever.
Other details of Batte melt pumps:

Place of Origin: Henan, China (Mainland)
Brand Name: Batte
Model Number: ZB-B, ZB-C, ZB-D, ZB-E, ZB-F, ZB-G, ZB-H, ZB-K, ZB-R, ZB-U, ZB-W,ZB-X
Theory: Positive Displacement Gear Pump
Structure: Gear Pump
Usage: Plastic, Rubber Pump and Fiber
Power: Electric or Oil
Fuel: No Need
Pressure: High Pressure
Application: transportation, pressurization or the metering of polymer
Scope of Application: Almost all kinds of polymers(plastic, rubber, chemical fiber...)
Viscosity: Up to 40000Pas
Gear Tooth: Straight (Optional),Helical gear pump(Optional),Herringbone gear pump(Optional)
Sealing Method: Mechanical Sealing (Optional)
Heating Method: Stainless Steel Heating Rod

Relative Articles:
◆Melt Pump And Gear pumps for Extrusion
◆Your Extrusion's Best Friend : High Temperature And High Vis
◆Investigation of Melt Gear Pumps And Its Applications