Tel: +86 371-67991755
Fax: +86 371-67993277
Sales direct: +86 15838331071
E-mail:sales@battemachinery.com
http://www.meltpumpextrusion.com
24h services
High pressure rubber products gear pump
High pressure rubber products gear pump is mainly used for metering, transfer and pressure boosting of low or high viscosity polymer melt. It helps to strictly control the assembling clearance, ensure the accurate and stable material flow, and is immune to the change of the working condition.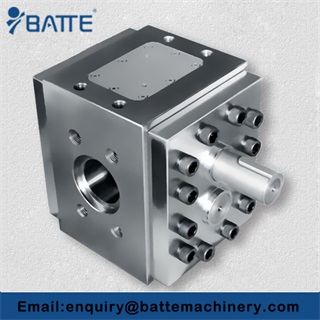 High Pressure Rubber Products Gear Pump Characteristic:
1. Specially used for pressurization of high-temperature, high-pressure polymer melt and measurement-transport.
2. Eliminating the pressure and fluctuation in the material flow so as to improve product uniformity and save materials.
3. Due to the integration of screen changer, the structure is more compact that can save space.
4. Easy application and maintenance.

Relative Articles:
◆What are the benifits of melt pump on extruder?
◆Thermoplast Melt Pumps Extrusion
◆Recycled PET Extrusion Pump
◆Here You Can Find The Best Pipeline Melt Pump Extrusion