Tel: +86 371-67991755
Fax: +86 371-67993277
Sales direct: +86 15838331071
E-mail:sales@battemachinery.com
http://www.meltpumpextrusion.com
24h services
High temperature melt pump extrusion(ZB-H)
High temperature melt pump extrusion is extremely efficient at building high temperature and metering the polymer output.So it is also be called high temperature metering pump. High temperature gear pump extrusion has a closed-loop drive control to assure an adequate amount of polymer.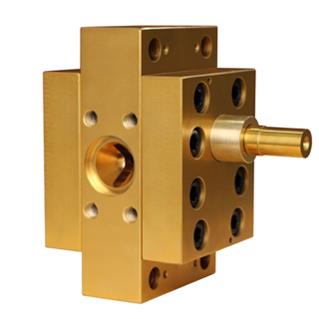 High Temperature Melt Pump Extrusion Benefits:
High temperature melt pump extrusion can save materials.
Increased the
gear pumps extrusion
output
Increased Extruder Life
High temperature metering pump reduced scrap
Metering pump has lower shear stress
Sizes Available for all Extruders
Faster Start Ups
Lower Processing Temperature
More Accurate Gauge Control
Technical Parameters
Operating parameters

Melt Pump Body: CPM tool steel, Ti-Ta Alloy

Gear: CPM tool steel, Ti-Ta alloy, special material and Abrasion resistant

coating

Sliding Bearing: CPM tool steel, Ti-Ta alloy, special material and Abrasion

resistant coating

Shaft Sealing: Spiral sealing

Heating System: Electrical heating

Theory: Positive Displacement Gear Pump

Structure: Gear Pump

Usage: Plastic, Rubber Pump and Fiber

Power: Electric or Oil

Fuel: No Need

Volume Range: 5CC - 3200CC

Viscosity: ≤20000 Pas

Working Temperature: ≤510°C(950°F)

Cleaning Temperature: ≤590°C(1100°F)

Outlet Pressure:≤70Mpa

Differential Pressure: ≤50Mpa
Pump Model

Pump Volume (CC)

Capacity (L/H)

Driven Power (kw)

Heating Power (kw)

Working Temperature

Working Pressure

Outlet Pressure: ≤ 350Mpa

Outlet Differential Pressure: ≤ 275bar
High Temperature Gear Pump Extrusion Applications:
High temperature
melt pump extrusion
are widely used in plastics, resins, rubber and chemical products extrusion. Such as: granulation, film, pipe, plate, sheet, synthetic fibers, fiber optics, medical plastic catheters and other industries.
Processable material covering almost the most polymeric materials, such as PE, PC, PP, PVC, HIPS, PS, PA, TPUR, fluoropolymers, polysulfones, polyesters, thermoplastic elastomer, rubber and adhesive fever.
Relative Articles:
◆Chemical gear pumps extrusion(ZB-W)
◆Spinning pumps extrusion(ZB-U)
◆Melt pump extrusion for reaction kettle (ZB-K)
◆Plastic melt pump extrusion(ZB-B)