Tel: +86 371-67991755
Fax: +86 371-67993277
Sales direct: +86 15838331071
E-mail:sales@battemachinery.com
http://www.meltpumpextrusion.com
24h services
Melt pump extrusion for reaction kettle (ZB-K)
Melt pump extrusion for reaction kettle
is mainly used for transporting medium or high viscosity medium out of the vacuum reaction kettle.This
gear pump extrusion
can be called
reactor discharge pumps
on basis of large suction inlet flange design, the high viscosity medium is able to absorb inside under vacuum conditions.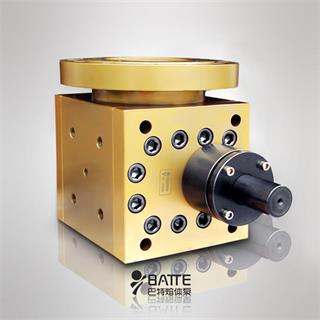 Melt Pump Extrusion For Reaction Kettle Features:
1.Stabilizing outlet pressure.
2.Improving the products quality.
3.Increasing the extrusion output.
4.Reducing unit energy consumption.
5.Prolonging the service time of extruder.
Technical Parameters

Operating parameters

Melt Pump Body: stainless steel, carbon steel, hastelloy, Monel Metal

Gear: Tool steel, Nitrided steel, Special material or Coating

Tooth Tooth: Straight, Helical, Herringbone

Sliding Bearing: Tool steel, Titanium Tantalum alloy, Silver-Nickel, Special

material and Coating

Shaft Sealing: Mechanical sealing, Packing and Spiral Packing, Combined

Heating System: Electrical heating

Usage: Plastic, Rubber Pump and Fiber

Power: Electric or Oil

Fuel: No Need

Volume Range: 0.5CC - 12000CC

Viscosity: ≤40000 Pas

Working Temperature: ≤400°C(750°F)

Cleaning Temperature: ≤450°C(850°F)

Inlet Pressure: Vacuum--1.5MPa

Outlet Pressure: 40Mpa
Pump Model

Pump Volume (CC)

Driven Power (kw)

Heating Power (kw)

Working Temperature

Working Pressure

Outlet Pressure: ≤ 40Mpa(6,000psi)

Outlet Differential Pressure: ≤ 275Mpa
This series of
melt pumps for extrusion
is primarily applicable for ABS, PS, PET, PC, SAN, PP, PE Bioploymers etc. This metering pump is mainly used inn chemicl engineering, chemical fiber, spinning, oil, food industry, biology, medical and so on.

Relative Articles:
◆Spinning pumps extrusion(ZB-U)
◆Polymer melt pump extrusion(ZB-C)
◆Spinning pumps extrusion(ZB-U)
◆Chemical gear pumps extrusion(ZB-W)